As apartments/buildings age, long-term deterioration, earthquake-proof and fire safety features deteriorate and problems begin to occur.
We recommend renovation work to renew your property to appear
just like a newly constructed building.

However…
Is this sufficient enough? Whether or not the renovated apartment building will be comparable to one that is newly built and remain competitive.
And thus, because we are a architectural design firm,
our capabilitiesin planning, market research,
with both a Japanese and international outlook,
we would like to utilize Alpha's unique strengths and
have put forth our attention into providing proposals on renovation work.
On the basis of the structure's physical age,
Alpha's approach of renovation work begins by analyzing the durability of
the structure in its planning work.
No matter how physically beautiful the exterior,
the renovation work doesn't fulfill its objective without enhanced durability
of the building.
Upon confirming with the results of the pre-renovated building's durability, the planning work for the rest of the building begins starting with how to maximize value to the renovation work. Then of course, follows with detailed planning and proposal of the interior, such as the front door, flooring, equipments, and so forth.
※Alpha will ensure the highest confidence in providing quality renovation work to ensure the renovated building's competitiveness with those that are newly constructed.
The Alphaism PromotionMovie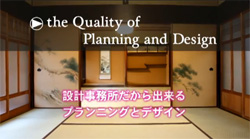 <Gate>




<Conversion (Functional Modification)>

Conversion of a wooden-built restaurant
to a day service center.

<Accommodations>
Designed for renovation work for the well-established business Ryokan,
30 years after the first construction.
This business Ryokan was renewed not only for the improvement of attracting customers
but also to bear to be a symbol of Regional Development.
Project name:

business Ryokan Kotobuki

Location:

Ibaragi-city, Osaka, Japan

Function:

Accommodations

Structure:

Steel construction

Completed:

April 2000